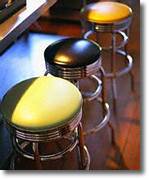 Frosolone Interiors has a professional, talented and highly trained design team, ready to assist you with your model home merchandising and design needs.
Please use the links below to learn about each individual of our design team.
As President of Frosolone Interiors Ltd., Bill Frosolone is responsible for the interior model home merchandising and design implementation, special project requirements, budget management, staff supervision and installation overview. Bill provides supervision during all project phases and oversees progress to ensure conformance of design intent and deadlines.
Bill began his design career following his graduation from Harrington Institute of Interior Design. He founded Frosolone Interiors in 1973, developing and sustaining client relations for over two decades.
---
Karol Magana heads the project design team members and maintains critical path scheduling. Ms. Magana oversees all orders and deliveries to meet scheduled installation. In addition, Karol coordinates paint and wallpaper schedules and advises client of material deliveries.
Karol is a graduate of the Chicago Academy of Interior Design and joined Frosolone Interiors in 1997 as a draftsperson.
---

Natalie Parker
Detailer / Designer
Natalie Parker is responsible for the execution of the technical design, detail and drafting of design and floor planning, as well as the preparation of paint and wallpaper schedules. Natalie assists Karol Magana on all related project responsibilities.
---

Linda Frosolone
Secretary / Treasurer
As Secretary/Treasurer of Frosolone Interiors LTD, Linda Frosolone is responsible for supervising and overseeing the model home merchandising furnishings' delivery timetable to meet client installation date. Linda keeps the design team apprised of the project's order status and budget on an ongoing basis.
Linda is a graduate of DePaul University. She worked in the field of advertising and promotion before co-founding Frosolone Interiors.

Profile | Model Home Merchandising | Checklist | Design Team | Portfolio | Contact Us
210 Skokie Valley Road, Suite 3
Highland Park, Illinois 60035

Phone: 847.831.0027
Fax: 847.831.0053 E-mail: design@frosoloneinteriors.com