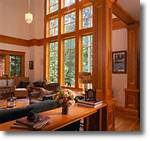 Model Home Merchandising: Today's entry level buyers are expecting customized details that will individualize their home. Frosolone Interiors can suggest inexpensive semi-custom drywall details such as niches or crown molding that further enhance the product. This service provides added value to your home and with Frosolone Interiors input, we can also help you create flooring patterns, arched entryways, and a host of other features ranging from simple to very elaborate.
Single Family Home
Picture molding and a tray ceiling give dimension, interest, and warmth to volume spaces. The added detail also gives a customized look, providing individualization to this home in Barrington, Illinois.

The best and most economical way to achieve effective space planning is for Frosolone Interiors to be involved early in your architectural design process.
We are your model home merchandising experts.

Floor Plan Evaluation | Space Planning | Architectural Detailing
Material Selections | Model Interior Merchandising
Profile | Model Home Merchandising | Checklist | Design Team | Portfolio | Contact Us
210 Skokie Valley Road, Suite 3
Highland Park, Illinois 60035

Phone: 312.828.1118 or 847.831.0027
Fax: 312.828.1139 E-mail: design@frosoloneinteriors.com