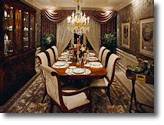 Model Home Merchandising: We know your market - First Time buyer, empty-nester, move-up or move-down, the profile is clear to us and we design for your target audience.
With the creative use of space, our interiors reflect mood, comfort, and home buyer lifestyle. Our furniture placement enhances the space, but does not overpower it, our window treatments are sensitive to vistas and views, accessorizing and room themes further relate to your customer's everyday life. Our model home merchandising experts can assist you from start to finish.
An upscale golf course community in southern Florida
This dining room is marketed to a more formal lifestyle. A glass top dining table gives an open feeling in a small dining space. The custom wall detail, columns with serving shelf, creates form and style, in addition to function.
A living room setting at Baywinds
This window treatment is designed to frame the formal space, but not obstruct the view of an adjoining pool area. A mirrored wall behind the sofa seating area reflects the room, visually enlarging the space.
We are your model home merchandising experts.

Floor Plan Evaluation | Space Planning | Architectural Detailing
Material Selections | Model Interior Merchandising
Profile | Model Home Merchandising | Checklist | Design Team | Portfolio | Contact Us
210 Skokie Valley Road, Suite 3
Highland Park, Illinois 60035

Phone: 312.828.1118 or 847.831.0027
Fax: 312.828.1139 E-mail: design@frosoloneinteriors.com