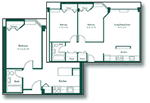 Model Home Merchandising: Before finalizing construction drawings, we evaluate preliminary plans suggesting changes that can enhance the overall appeal of your home design.
We visualize how the space will function when finished out and communicate the design of an interior environment that will meet the needs of your buyer.
The best and most economical way to achieve effective space planning is for Frosolone Interiors to be involved early in your architectural design process.
We are your model home merchandising experts.

Floor Plan Evaluation | Space Planning | Architectural Detailing
Material Selections | Model Interior Merchandising
Profile | Model Home Merchandising | Checklist | Design Team | Portfolio | Contact Us
210 Skokie Valley Road, Suite 3
Highland Park, Illinois 60035

Phone: 312.828.1118 or 847.831.0027
Fax: 312.828.1139 E-mail: design@frosoloneinteriors.com